Direct Vent Gas Fireplace – Bringing Cozy Warmth to Your Home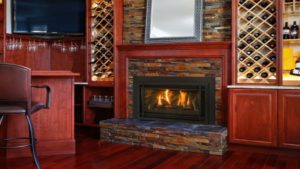 Fireplaces have developed significantly in their technological capabilities from where they were many years ago. Many of us can remember the old-style wood-burning fireplaces that had the metal chain grate over the opening. These old standards from a past era required a significant amount of cleanup and maintenance.
Function of a Direct Vent Gas Fireplace
By using the outside air and bringing it into a combustion system that is sealed, direct vent gas fireplaces transport the cool air into a bottom chamber and into a firebox in which it is circulated. The warmed air is then delivered out into the surrounding space by the operation of a fan for the comfort of everyone in the room. This pleasurable radiant heat is perfect for those cool and cold nights, whether in the fall, winter, or early spring. These fireplaces include vents located at the top and rear section of the unit. Harmful exhaust gases are sent through these events to the outside air, thus keeping the air inside free from these pollutants.
High Efficiency
A direct vent gas fireplace operates at a high level of efficiency. If you are in a room where one of these fireplaces is present and turned on, you will notice that heat distributes into the room relatively quickly. The efficiency level of heat distribution is in the range of 75 percent in many cases. This level of efficiency far surpasses the old-style traditional wood burning fireplaces which lost a tremendous amount of heat into the surrounding material of the fireplace and up through the chimney.
These fireplaces can also be vented through the ceiling of a room with a flexible type of installation that allows venting with customized routing.
Exquisite Decor
When selecting a direct vent gas fireplace, you will have options in terms of colors and styles to accommodate your existing decor. These fireplaces offer a flame presentation that is appealing and adds to the benefits of the entire addition to your living space.
If you're ready to add an element of comfort and warmth to your home, consider purchasing one of these modern gas fireplaces from an experienced fireplace dealer serving your area.