Check Out Local Painting Contractors in Honolulu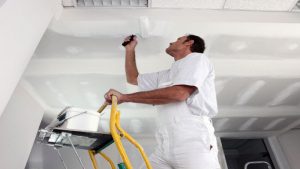 Homeowners and commercial business owners in Hawaii may think they can paint their buildings themselves and save money. That is just fine if they do the research needed to find out how to do the job correctly for the Hawaiian climate conditions. What are the correct kinds of painting products to withstand the humidity and rains? What prep work is needed before the painting is done? What can be done about peeling paint before repainting? Painting contractors in Honolulu have all the right tools, equipment, and painting products to do the job correctly.
A Paint Job That Lasts
Having to repaint a home or business every couple of years should not be necessary. If the paint job is done correctly a paint job should last a long time. But, what is a good paint job? What should the building owner look for?
The contractor should come and examine the building before giving a free estimate for the job.
The contractor should detail what preparation will be done before the painting begins such as scaping off loose paint, repairs, etc.
The building should be washed to get rid of mold, grime, and other chemicals before painting starts.
Scraped and repaired areas should be primed before the finish coat is applied.
All areas that will not get paint should be taped off and protected. This includes windows, doors, etc.
Only paints approved for Hawaiian weather conditions should be used.
Trim and the body of the house should have coordinating colors with neat clean paint lines where they meet.
Paint that is applied carelessly over dirty, damaged paint will not last. Since labor costs are a major part of a professional paint job, it is better to pay a little more for a good paint application and have it last years longer.
Choosing The Contractor
Choose local painting contractors in Honolulu that are licensed, insured, and bonded. If possible look at other jobs they have completed and get references. Have several painting contractors bid for the paint job and compare services versus cost. Ask what brand of paint they will be using. Click here for more painting information.