How Much Does Paintless Dent Repair to Fix Hail Damage Cost?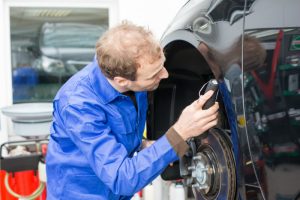 Keeping your car safe from damage is a bit easier said than done. While there are a number of precautions you can take to limit damage to your vehicle, in some cases it is unavoidable. When bad thunderstorms move through the Denver area, they can cause a lot of problems. If a storm produces hail, it can leave your car damaged and dented. Paintless dent repair is commonly used to fix these small dents. This type of repair can cost anywhere from $50 to $500. Read below to find out more about this type of hail damage repair and how much it will cost you.
The Size of the Dent is Important
The main factor that has to be considered to assess the cost of this type of hail damage repair is the size of the dent. The bigger the dent is, the more money it will ultimately cost to fix it. Going in and getting quotes from body shops in the Denver area is essential. Once you have an idea of what each body shop will charge for this hail damage repair, you can make an informed decision regarding which one to use for the job.
The Number of Dents
Another factor that will dictate how much this hail damage repair costs is the number of dents on your vehicle. If hailstorms are particularly bad, they can cause extensive damage to your vehicle. Getting all of the small dents left behind by a hailstorm fixed at one time is important. The last thing you want is to drive around with a visibly damaged vehicle. Working with seasoned auto body professionals will allow you to get your vehicle fixed and back on the road in a hurry. The time spent finding the right shop to perform this hail damage repair will pay off in the long run.
Are you in need of comprehensive hail damage repair? Call BJ's Auto Theft and Collision at 303-227-1222 or visit their website to find out more about how they can help.