How Do I Know if My Equipment Will Fit My Restaurant's Utilities?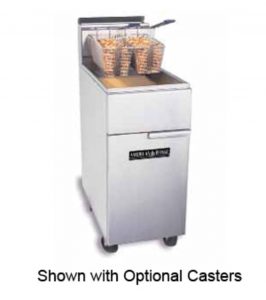 You may not realize this but having the wrong utilities is the number one reason for equipment that operates improperly in food service. While this might seem surprising, the truth is that many things need to be considered when it comes to new restaurant cooking equipment being installed in your restaurant. However, the good news is that some simple tips can prevent this problem from happening to you.
If you are in the market for electrical equipment, you should always ensure that the phase and voltage of the equipment you are considering matches what your food service establishment provides. You want to look at the AMP requirements of the equipment and determine if they match what is in your restaurant. You should also take the time to be sure that the plug and writing are both compatible with the outlet and long enough for your needs.
On the other hand, if you are looking to purchase gas equipment for your restaurant, there are other things to keep in mind. First, you want to be sure the type of gas needed is something you have available. Make sure that if the equipment needs propane, you can provide it, the same goes for natural gas, or whatever the case might be.
The next thing to consider is gas pressure. The amount of gas pressure will influence how effective the equipment works. You should also be aware that elevation can have an effect on the performance and calibration may be required to get the best efficiency from the item.
Another utility to keep in mind is water. While you will undoubtedly have water available at your restaurant, many types of restaurant cooking equipment will require it. Some examples are dishwashers, coffee urns, and kettles. You want to make sure that these pieces of equipment have a nearby water source. Moreover, just like with gas, you want to determine whether the water pressure will be sufficient for the equipment.
At Automatic Ice Maker Co in New Jersey, all sorts of food service equipment is available. You can find ice makers, cooking equipment, refrigeration units, and more. The company also offers a huge stock of replacement parts to save you money down the line. If you are interested in learning more about their offerings, you can give them a call at 1-800-423-4787.