How Can I Benefit from Boat Stands?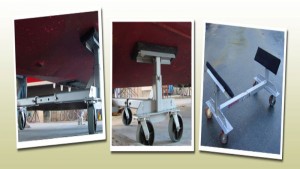 When boats aren't on the water, they have to be stored somewhere. boat stands are a wise choice for storing this huge investment. These stands are the most reliable, fastest and safest way to store boats in a manner that allows yards to accommodate a larger number of boats per square foot. This, in turn, allows yards to use more efficiently their storage areas and increase their revenues.
Boat Stand Features
Today's leading rugged stackable boat stands are made out of steel and feature wooden pads that are marine grade. These pads help protect the hulls of the boats you are storing. These stands are designed to last years, even featuring screws and handles that are rust-resistant. They are especially handy since you can conveniently stack them when they are not holding boats.
Boat Stands' Value
The hugest benefit of a boat stand is that it serves as a stabilizer when it supports the weight of a boat on the boat's keel. It is recommended that you use a minimum of a couple of pairs of stands if you are storing a powerboat. For boats that are longer than 20 feet, it is wise to use an additional set per each 10 feet of additional boat length. Note that you need a minimum of five stands for a sailboat, while one stand is ideal for a V-head for a bow, and four stands are ideal for swivel tops.
Steps for Properly Using Boat Stands
Boat stands are relatively easy to use. Be sure first to position your stand on the ground, and if you have soft ground, use dunnage beneath the stands to make sure that it makes proper footing. Avoid putting items such as blocks on the stand to make it higher, and don't tie objects to your stand.
You can also position your stand against a boat's hull by using one hand to hold the screw. Then you can easily raise this screw and pad to the hull by using the opposite hand to spin the wing nut. Finally, tighten until you achieve your desired tension.
You can rely on Hostar Marine Transport Systems Inc. if you need a well-designed boat stand. Visit hostarmarine.com to learn about these products.