Keep Your Media from Being Stolen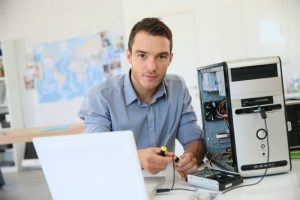 Every business should be aware that media from their unused computers can be stolen. In order to avoid the dangers that result in media being stolen you need to degauss the hard drive. Degaussing is a better solution compared to overwriting the hard drive or just trying to erase data. Overriding any racing our poor choice when compared to degaussing which will 100% remove data and prevent accidental disclosures and even theft.
There Are Many Benefits to Degaussing
When it comes to classified information your business has the duty of making sure you meet CESG and NSA requirement for sanitization. Degaussing can guarantee the removal of sensitive and private data from magnetic media, no matter the retrieval method. Overall degaussing minimizes any security risks that would otherwise be associated with storing classified information on magnetic media. There is no better way to sanitize unclassified media that could be contaminated with personal or classified information from clients, employees, customers and your company.
Use Degaussing Services Offered by the Professionals
Degaussing services offered by the professionals includes being able to help your company get rid of any type of media no matter the format. Do you have a high volume of media? That's no problem either. The experts have the degausser needed to perform clean removal services in regards to high volume and density. Many different types of companies require degaussing services for hard drives they no longer use. If your business has ever used magnetic media then the hard drive needs to be degaussed when you are no longer using that computer. The types of companies that should consider using expert degaussing services for defunct hard drives includes computer departments for corporations, data storage companies, radio and television broadcasters, defense operations, audio and video duplicators, financial services, hospitals, emergency services, universities as well as CCTV operators.