Cosmetic Dentistry Services Can Give You A Superstar Smile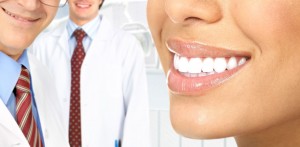 Cosmetic Dentistry Services have become very popular for an excellent reason. A great smile is so important for social relationships and in business, greatly boosting a person's self-confidence. When someone with stained or misaligned teeth has had a smile makeover, they can become overwhelmed when looking at their new superstar smile in the mirror for the very first time.
What is a Smile Makeover?
A smile makeover simply refers to cosmetic dentistry procedures that you choose to get because you are unhappy with your smile. These treatments make you feel better about yourself. By contrast, a general dentistry treatment, such as having a cavity filled or a full mouth reconstruction, is necessary for your oral health.
When discussing a smile makeover with your dentist, think about what you like and dislike about your teeth and smile. More than one procedure may be necessary in order to create the smile you've been hoping for.
Cosmetic Dentistry Services
Some of the most popular procedures that could be included in a smile makeover are shown below.
* Teeth Whitening:
* This is a very popular cosmetic dentistry procedure as dark or stained teeth make a person seem older. The dentist will select the perfect shade for whitening after considering your hair and skin tones. The goal is to give you a gleaming, white smile that appears completely natural.
* Porcelain Veneers:
* Veneers are very thin porcelain shells custom-made to perfectly cover the front of a tooth. The veneer is bonded to the tooth and can dramatically change the tooth's color, size, shape or length. Porcelain veneers are stain-resistant and appear very natural.
* Composite Bonding:
* When someone has a chipped, fractured or decayed tooth, composite bonding can be used to improve its appearance. It can also be used to protect an exposed portion of the root of the tooth if the gums have been receding. The composite resin is shaped and polished so that it matches the other teeth.
* Tooth Implants:
* An implant is an artificial tooth that replaces a tooth that has been lost. Typically, a screw or cylinder is placed into the jawbone and holds the artificial tooth. Implants are often preferred over bridges or removable dentures.
Robert S. Ogden DDS PA offers a wide range of General and Cosmetic Dentistry Services, employing the latest technology. For your free cosmetic dentistry consultation to discuss how you can achieve your superstar smile, visit Robertogdendds.com.